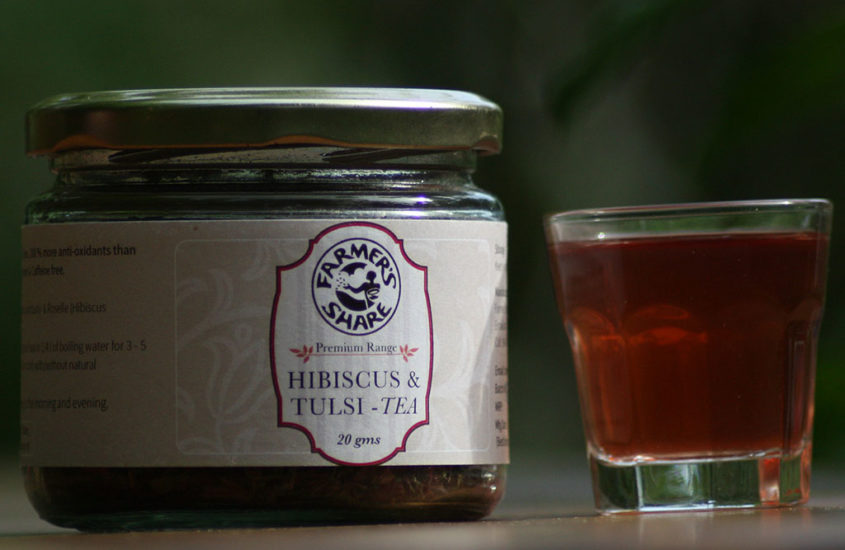 Value addition of farm produce is a core theme at Farmer's Share. The food products are often based on home remedies, and prepared in slow, traditional techniques. The land in our premises is completely chemical-free, from where we source.
Our sun dried range of products is a treasure of nutrition and taste. There is no better way to preserve food than to let the energy of sun soak them. Sun dried ripe papaya is suitable for chutneys and baking. Sun-dried Nendran banana is an essential in every house with a baby. Moringa and curry leaf powders are great for cookies, chutney powders and dosa batter.
The Tulsi Tea is a signature product.
Our Savoury and Bakes include tender coconut laddus and artisanal breads and cakes. Some unexpected addictive hints are packed in our cookies thanks to curry leaves and Moringa leaves!
The Infused Honey series is unique. In a slow infusion process, the cooling, digestive, restorative and anti-ageing properties of Hibiscus petals, Tulsi leaves or Amla fruits are combined with the anti-bacterial, healing energy of wild honey. Perfect as a dressing for pancakes, or a sweetener for tea or porridge, or simply a dessert topping.
Concentrates come in two rich flavours – Naruneendi and Nellikka. 
Our range of fermented foods includes vegetables in brine (pickles), and drinks with honey and other sugars. Fermented foods have immunity boosting properties to strengthen the gut with their probiotics. Pickles include dry mango, Chinese potato (Koorka), Patthila (ten herbs), bitter gourd, sour lime and of course, Nellikka.
Ambrosia – the Nelli, Orange and Grape Brews
Aged in earthen pots across 46 days, these brews do not use yeast, and are based on a combination of herbs and palm sugar or jaggery.
The Nellikka Preserve resembles an Ayurvedic Lehyam in texture, and is a concoction of carefully selected ingredients. Remember that our honey and Hibiscus based products are to add wellbeing in your life: we urge you not to think of these products to treat an illness.